So I missed last week's "All About Hoo" fun by
Mommy & Me Creations
, b/c it was just a very wild week!
But I am back this week!! =)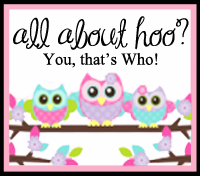 1)What are your plans for the summer!
I plan to hang out with my kids and just relax! MAYBE I will make some fun freebies and such for next year!
We are also planning a family vacation to NYC in August! And my mom might be tagging along! =)
2) What are your favorite summer activities?
I like to read (which reminds me, I need to start making a summer reading list), go bike riding with the kids, hang out at the pool and just RELAX! Let's see how long it takes to get my little one off her schedule so I can start sleeping in late! =)
3) Do you enjoy going outdoors? Or are you an indoor person?
I do enjoy a little bit of both. Mostly I like to be outdoors BUT there are days where I just don't feel like doing a thing except lay around and be a bum!
4) Which of the following is your favorite and why: Fishing, Hiking, Camping?
I like to go camping. It brings back awesome childhood memories! My hubby wants to do a small camping trip with the kids this summer...we shall see! Maybe I should add it to my summer bucket list!
A little less than FOUR weeks to go...UGH, sounds like alot... =(